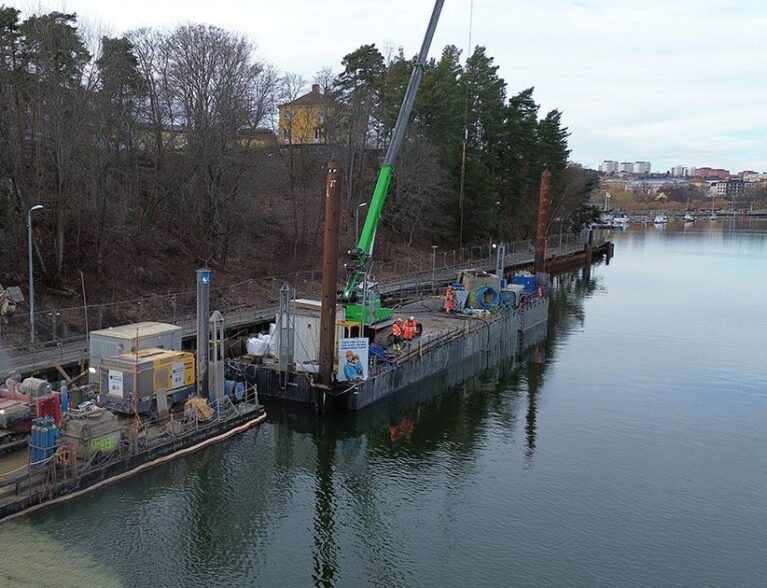 Reinforcement of Södertälje channel
In a One Company collaboration, Ground Engineering in Sweden, Denmark and Norway is working on a geotechnically challenging project in Södertälje, south of Stockholm. The Södertälje channel is one of the most important entrances to Stockholm and the lake Mälaren. The channel is to be future proofed prior to subsequent dredging.
New construction and repair work
The project includes construction of a 1,000–metre new quay wall with 600 ground anchors, as well as repair work and changes on parts of the channel section, such as replacement and reinforcement of sheet piles, jet grouting, supplementary anchoring, and casting of tubular piles. Some of the 600 ground anchors are particularly complicated, as they must be anchored in rock, which is covered by characteristic and different soil layers deriving from the Ice Age.
The ship traffic continues unaffectedly
Large ships of up to 120 metres long must pass through the channel while work is being done, so the work zones are limited to eight metres from 7 am to 11 am and 15 metres from 11 am to 7 pm. For this reason, a barge set–up with pontoons that are only 7.5 metres wide is being used. The work is expected to be completed in August 2023.
PVE Cranes supplied a Hitachi SCX1000 and a Sennebogen 635 to this challenging project.
Do you want more information on the involvement of PVE Cranes on this project and the cranes used? Don't hesitate to contact us!