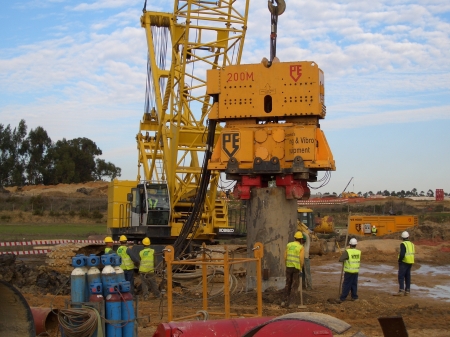 Building the bridge
The new bridge, connecting Carregado and Benavente, is at present the largest public works project in Portugal. The bridges are being built across the River Tagus, without damaging the environment or interfering with farming activities.
Synergy
PVE Cranes & Services and Dieseko Verhuur BV, both linked to the Van Es Holding Group supplied all necessary equipment for the on site piling job. PVE Cranes & Services supplied 9 crawler cranes, ranging from 50 up to 250 tons. Dieseko Group supplied their largest vibratory hammers with power packs, 4 models of PVE105M and 2 models of PVE200M. This is the philosophy of the Van Es Holding Group, SYNERGY. The group of companies is able to offer a complete package of heavy equipment with local service, anywhere in the world.
The largest public works in Portugal
The cross-Tagus bridge links Carregado and Benavente. This 14 km long suspension bridge is to expand the nation's road system to cross both the river and the Ribatejo lezíria, without a negative impact on the environment or farming activities. This presented an interesting challenge for the builders. This project produced some massive figures;
54,000 linear meters of piles where required
foundations reaching depths of 55 meters.
Pre-casting plant turned out 4 concrete beams daily.
Each beam 35 to 44 meters long, weighing up to 120 metric tons.
The project uses 150t of cement per day.
Spanning the river, concrete will be poured, which is transported through a 900 meters long pipeline.
5 concrete batching plants are set up along the 14 km construction site
14 bridges have been built on the service road. These bridges span the rivers, brooks and drainage channels that flow through the alluvial plain
International spirit
One thousand persons, of 14 different nationalities are working on the project, including 850 living in accommodations at the jobsite. This international spirit is an integral part of other aspects of the project as well. The floating equipment and vibratory hammers are Dutch, the cranes, which can lift up to 250 tons are Japanese, German and English. Italians designed the precasting plant and the foundations are the responsibility of the Brazilian company Brasfond. The client is Portuguese, Brisa Engenharia e Gestão, a subsidiary of Brisa Auto-Estradas de Portugal, the largest tolroad operator in the country.
Do you want more information on the involvement of PVE Cranes on this project and the cranes used? Don't hesitate to contact us!