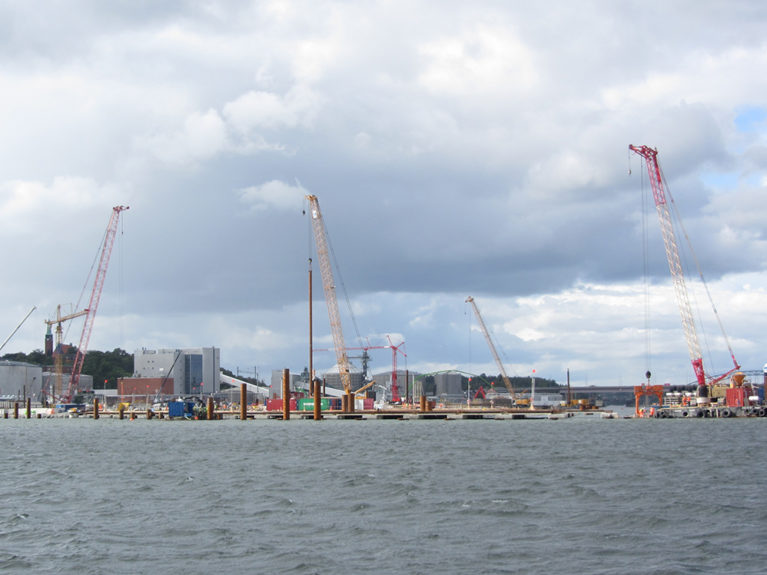 Starting in the summer of 2013 Värtahamnen will be restructured and extended further into the bay. PVE supplied serveral crawler cranes to the main contractor for the construction of new harbour structures in the Värtahamnen area. The total contract value of this project is almost DKK 1 billion and is to be carried out during the next four years. Värtahamnen is Ports of Stockholm's largest port, with around 4 million passengers and 1.7 million metric tons of freight.
The project is carried out to make land available for urban development in the Swedish capital. The new Värtahamnen harbour will be established in the existing harbour basin.  This will provide updated facilities for the ferry operations from Stockholm and to the countries around the Baltic Sea. Ferry operations are moving to the five new quay berths. The old harbour area will then be developed into a new urban area with office facilities, shops and residential units.
PVE Cranes & Services is renting out 5 crawler cranes in different sizes from the end of last year till approximately February 2015. On site are: 100t Liebherr LR1100, 135t Hitachi Sumitomo SCX1500, 160t Liebherr LR1160, 280t Liebherr LR1280 and a brand new 300t Liebherr LR1300. We are pleased with this contract on this important and extensive project of Ports of Stockholm. The main contractor is a large international group with renowned competencies and for years a good relation for the PVE group in general. The project primarily comprises construction of a bridge deck on pile foundations, and the plan is to produce the pre-cast concrete units for the bridge deck in Poland. 
Do you want more information on the involvement of PVE Cranes on this project and the cranes used? Don't hesitate to contact us!